British America's Cup and Chinese SailGP teams join 2019 GC32 Racing Tour
By on 16 May. 2019
Ben Ainslie and Britain's  America's Cup sailors are to rejoin the GC32 Racing Tour in 2019, racing as INEOS Rebels UK, at the GC32 Villasimius Cup in southern Sardinia next week. Sir Ben Ainslie, well known for his four Olympic gold medals and one silver, is back on the high performance one design foiling catamaran circuit with a new line up of youth and experience.
Ainslie may have won the America's Cup aboard Oracle Team USA's flying catamaran in San Francisco in 2013 and helmed the British AC50 catamaran in Bermuda in 2017, but last season was the British team's first foray on the GC32 Racing Tour. Despite missing the first event, they finished second place overall, with Ainslie steering the team to victory in the final event.
For Ainslie and the team, this season will see a big focus on crew rotation and development. Joining the Rebels line-up will be 'interns' Oli Gerber and Ben Cornish, who after an intense selection process became part of the senior Cup team back in January. Gerber will bring GC32 experience, having previously racing with the INEOS Rebels in the Extreme Sailing Series, Cornish is new to the class.
Ainslie and the team are looking forward to getting out on the race course: "Over the winter our main focus has been development of T5 [their AC75 test boat] but we can't forget we're a sail racing team and we are all looking forward to getting out racing again. We have a real mix of youth and experience on board this time and we are excited to get Oli and Ben out racing with the team. I know a few teams have been doing a lot of training, but hopefully we won't be too much on the back foot."
Completing the INEOS Rebels UK line up in Villasimius will be two Australians – America's Cup veteran Joey Newton and former Olympic 49er gold medallist Iain Jensen on jib and mainsail trim respectively. No1 Finn sailor and Olympic gold medallist Giles Scott will again be calling tactics.
Last week the INEOS Rebels UK team was out in Villasimius training and will have a few additional days immediately before racing starts on Thursday 23rd May. "Last season when we got back into the class we learned a lot, in terms of getting the set-up right, the boat handling and communication," recalls Ainslie. "The GC32 Racing Tour was all we hoped it would be with the strong quality of the fleet, it was very worthwhile. Hopefully we can build on that this season." Helping them with this will be Leigh McMillan, winner of the 2015 GC32 Racing Tour with Sultanate of Oman.
As to how competition has changed for 2019, the significant difference is several former Extreme Sailing Series teams joining the GC32 Racing Tour. "That will up the intensity," says Ainslie. "Their boat handling will be pretty sharp from all the short course racing they've done, whereas the GC32 Racing Tour teams should be better at straight line boat speed. It will be interesting to see how those focusses compare."
First time for China
New to the GC32 Racing Tour will be CHINAone NINGBO, but the team led by New Zealand's Phil Robertson has immaculate pedigree in the M32 catamaran class. With this team Robertson won the World Match Racing Tour in 2016 and 2017 and with CHINAone NINGBO won the M32 World Champion last year.
Personally Robertson also has considerable GC32 experience having skippered Oman Air to second place behind Alinghi in the Extreme Sailing Series last season after a third place in 2017.
However this will be the first outing aboard a GC32 for the team who are also representing China on the SailGP foiling catamaran circuit. Sailing with Ed Powys and three Chinese crew, Liu 'Black' Xue, Chen 'Horace' Jinhao, Liu 'Leo' Ming, Robertson admits they will be on a steep learning curve: "For CHINAone NINGBO it will be the first time we have sailed with a majority of Chinese on board. They are extremely inexperienced when it comes to high performance sailing, but giving them as much foiling experience as possible is part of the long term objective, so we're jumping in the deep end with the GC32 Racing Tour."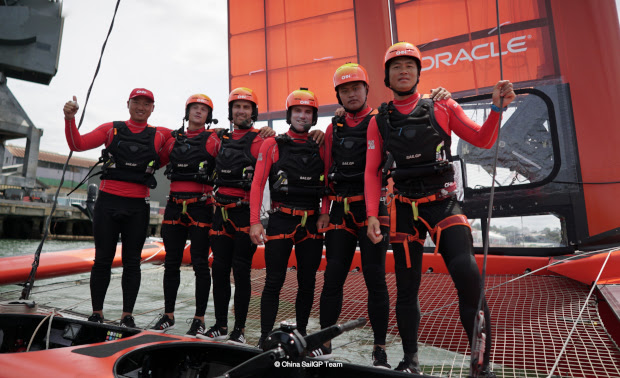 Phil Robertson with his CHINAone NINGBO crew. 
If names of the Chinese crew are familiar it is because they were all part of the Dongfeng Race Team that won the last Volvo Ocean Race.
Having been part of the Extreme Sailing Series, Robertson is looking forward to racing against his old Omani team, this year skippered by Adam Minoprio, as well as the increased competition due to teams from the Extreme Sailing Series joining the GC32 Racing Tour. "We just want more boats on the start line so it'll be fantastic having owner and pro-driver teams racing together. As competitors you really don't want anything more than great competition."
Not only will the team be new to the GC32 but it will be the first time even the experienced Robertson has competed in Villasimius, the popular Italian resort town at the southeasternmost tip of Sardinia. "I am going in with the expectations of seeing any conditions but hopefully it won't be big wind and big waves – because if there's that we won't get around too well!"